When Apple launched the 14-inch and 16-inch MacBook Pro with new M1 Pro and M1 Max chipsets, the performance levels were praised by many, including professionals and creators. The MacBook Pro comes with a host of creativity tools — some free while some are paid — that are used by those who want to edit movies, images, videos, songs among other things. Some of the most commonly used creativity tools on Mac are:
Final Cut Pro: Used by professional video editors
A popular tool among video editors and creators. On the MacBook Pro (new models), the video editors get the ability to play seven streams of 8K ProRes or colour grade 8K HDR video with the new Liquid Retina XDR display. Final Cut Pro also introduces a new Object Tracker that uses machine learning to automatically detect faces and objects, and match their movement to create cinema-quality titles and effects on any Mac. Moreover, videos recorded in Cinematic mode on the new iPhone 13 lineup can be edited easily with Final Cut Pro and Motion, giving editors the ability to adjust the depth effect of any shot and use keyframes to change it over time. Final Cut Pro costs Rs 27,999 and is available on the Mac App Store.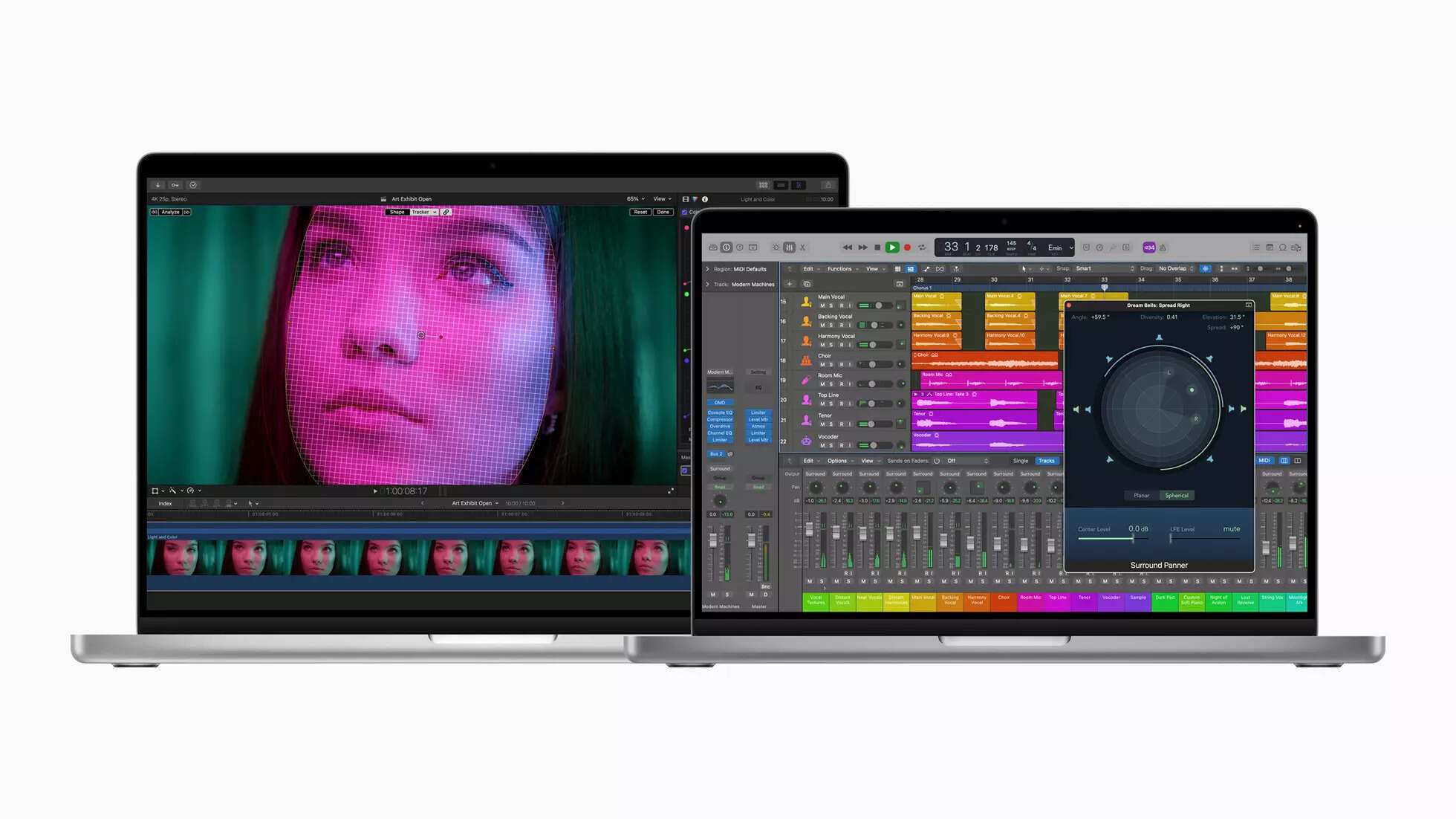 Logic Pro: For musicians, producers and mix engineers
Logic Pro comes with a complete set of mixing and rendering tools, Logic Pro allows anyone to author their songs as Dolby Atmos music files compatible with Apple Music. Musicians, producers, and mix engineers can expand their stereo projects to the surround channels supported by Dolby Atmos, using new mixer and panner controls. In addition, 13 plug-ins within Logic Pro — including Space Designer, Limiter, Loudness Meter, and Tremolo — are also there to take advantage of this new creative capability. Once the songs are published to Apple Music, listeners will be able to enjoy the immersive audio experience on their devices with spatial audio support. With the new MacBook Pro, musicians get workstation-class performance for creating spatial audio mixes, can quickly load large sample libraries, and can use up to 3x more plug-ins for recording. Logic Pro costs Rs 10,999 and is on the Mac App Store.
Octane X: For graphic designers, motion graphics, gaming
The Octane X app on the Mac App Store gives users one-click access to all the tools needed to package and render their artwork on the RNDR network – the industry's first decentralised GPU rendering platform, enabling all Mac artists to simply and effortlessly publish their NFT CryptoArt on the Ethereum blockchain. OTOY — the developer of Octane — has collaborated with Apple on a multi-year engineering effort to rebuild OctaneRender – the industry's first and fastest spectrally correct GPU accelerated renderer – from the ground up with full optimisation for the Apple Metal Graphics API.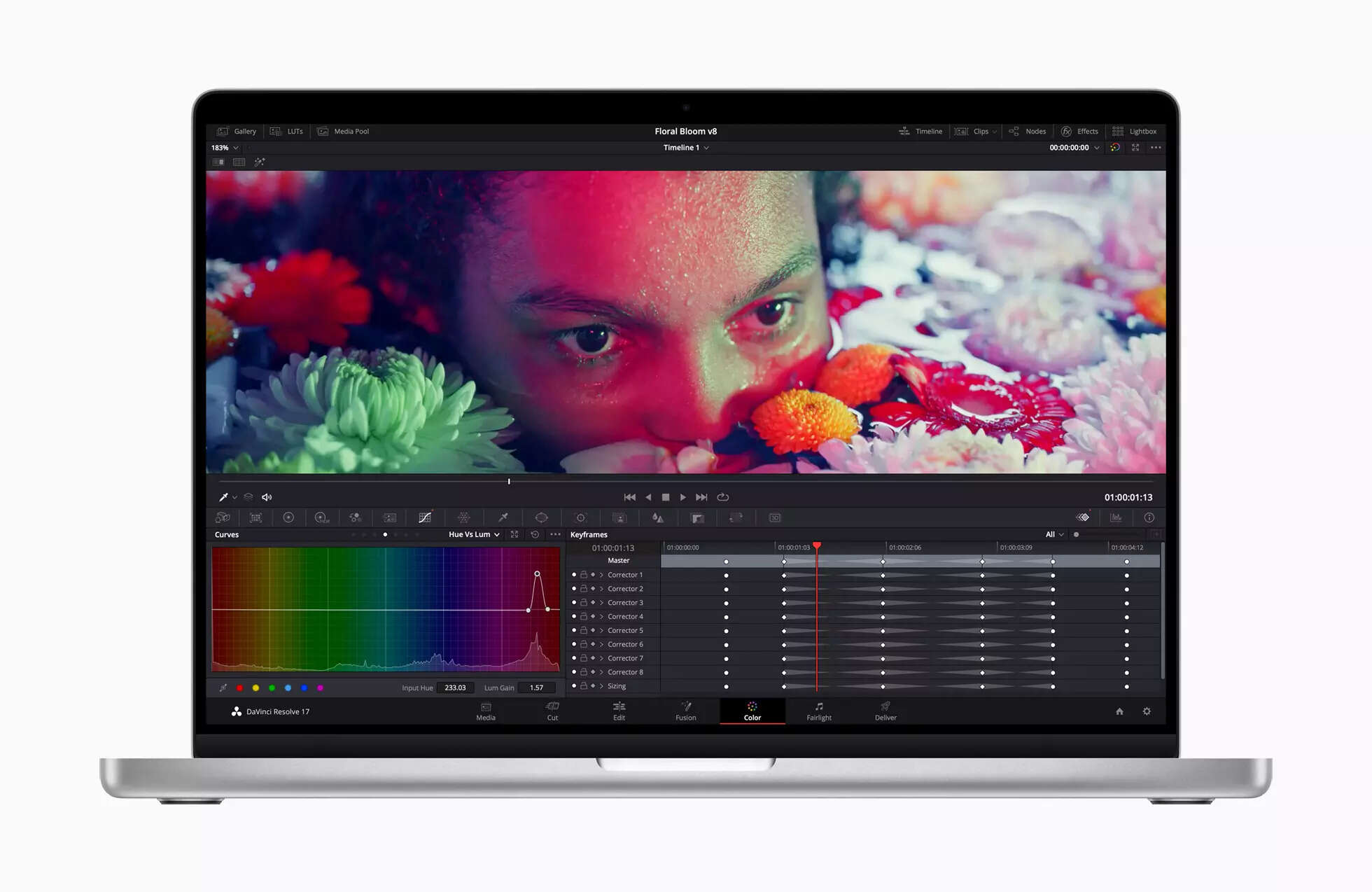 What tools do creators use on MacBook Pro
Yashoda Parthasarthy is a director, animator, and motion designer based in Mumbai. She is Director and VFX Supervisor at Plexus Studio and says that she has been using the MacBook Pro 14-inch on an upcoming documentary series based in India to create complex maps of Delhi, using Adobe After Effects. "I've been blown away by the improvement to rendering time, which has reduced by around 50 per cent when compared with our previous Mac," she says. She has a 14-inch MacBook Pro, Space Gray/10C CPU/32C GPU/64GB/8TB. She has worked on title sequences for regional and Bollywood films like Baar Baar Dekho (2016), Raman Raghav 2.0 (2016), OK Jaanu (2017), Solo (2017) and Sacred Games (2018).
Yuvan Shankar Raja is an award-winning film score and soundtrack composer and singer-songwriter who mainly scores music for Tamil films. "The main software I use is Logic Pro X when producing music for Indian movies and recording artists. When I switched to the 14-inch MacBook Pro, I was really surprised to see the incredible loading speeds of instruments and sound clips. These files are very large, around 10 GB each, and I can work with hundreds of them at a time," he says and uses the 14-inch MacBook Pro, Space Gray/10C CPU/32C GPU/64GB/8TB.
What has also helped using these tools for long hours is the excellent battery performance that the MacBook Pro delivers. In our review, we noted that the new MacBook Pro has one of the best battery performance you will see and that's something the creators vouch for as well. Parthasarthy says she gets 15 hours on her MacBook Pro, which she terms "incredible" whereas Raja too says that he doesn't need to be in his studio any longer to get most of his work done.